Last week, we discussed JCPenney's plan to change its entire customer experience by removing staff and moving towards an automated retail environment.
One of the key questions the move brought up was the following: Can a retail company improve its customer experience with fewer people and more automation?
However, a trip to Lowe's yesterday demonstrated how automation could be used to effectively improve operations and the customer experience.
When Easy Is Not Easy…
If you've ever gone to Lowe's or Home Depot to have a key copied, then you have likely experienced one of the more frustrating activities of a big box home improvement store. If the store is busy, the simple two minute activity of copying a key can stretch into 10 or 15 minutes, as you patiently (or not so patiently) try to wrangle a free associate to work the key copy machine or you.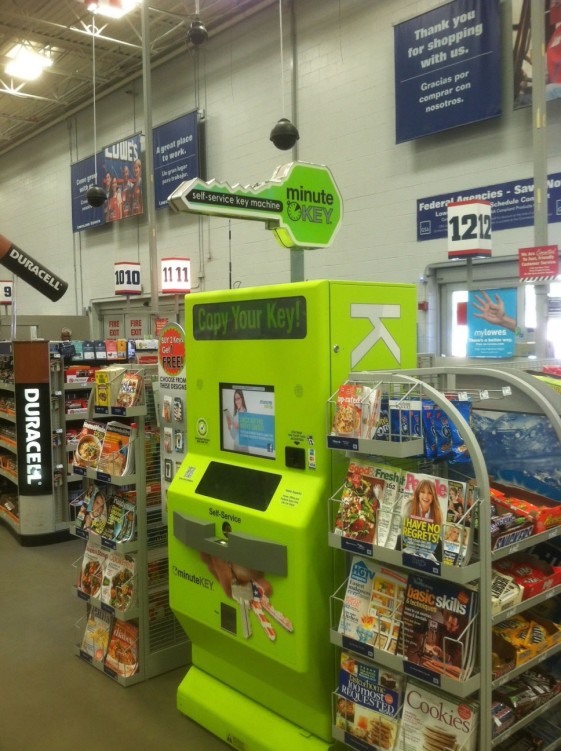 Copying keys is a perfect example of a low margin activity that probably becomes a loss leader once staff time is factored in.
Copying keys is a service that brings customers in the store, but it is also something people expect to get quickly and often cannot. A simple, unprofitable task that probably hurts the customer experience as much as it helps.
Yesterday, however, as I went to get some keys copied at Lowe's, I saw a perfect example of how a company can use automation to improve the customer experience.
Upon entering Lowe's I asked the nearest associate where the key copier was. Pointing to a bright green key sign, the associate replied that I could "either use the self-serve key copier or head over to aisle 16."
The self-serve machine was closer, so I decided to give it a try.
The machine was great — intuitive, clear, and fast. I made three key copies within as many minutes. Better yet, the third key was free.
The only gripe was that it was unclear how to get a receipt (you don't!). But since it was a personal charge for a small amount; I wasn't too worried about it.
But Nothing Went Wrong…
That's true. I did not thoroughly test the impact on the customer experience because nothing important went wrong. What would happen if the key didn't work, and I had no receipt? I think there was an 800 number to call. That would be way too much hassle and time for a quick key copy.
And that, of course, is one of the obvious downsides of automation: what happens when there is a problem.
However, the quick takeaway from this experience is how automation can be used to improve customer service. In this case Lowe's identified an area that did not require technical expertise, that drained company resources, and that probably caused as many bad customer experiences as good ones.
The self service key machine targets a specific "choke point" activity without drastically reducing human interaction or the ability to interact with customers.
Most importantly, Lowe's presents it as an option, just like self checkout lines are in most big box and grocery stores.
Lowe's still has human beings to assist customers with making a key, but now the customer has the option not to wait around for one of those people to find them.
Have you found other examples of how automation has improved your customer experience?